We are not the only ones with confidence in our technology
The industry has taken notice of Adrok and how our scanner offers a new way to find essential resources.
We are always keen to chat with industry media, analysts and consultants about our work and our ambition. No spin, just the facts.
From Canada & the USA, to Australia and the UK. We've been covered the world over.
For all media enquiries, please contact Adrok directly at: revolution@adrokgroup.com
Press coverage
A pick of some our most recent articles in the media.
Interviews
BBC Radio interview regarding Geothermal potential in Shetland - BBC Radio Shetland
Dr Aaron Lockwood interviews Adrok's CEO, Gordon Stove - The Geoscience Energy Society of Great Britain (GESGB)
Clients viewpoints:
"We have carried out a number of trials to satisfy ourselves that Atomic Dielectric Resonance (ADR) technology works and have successfully used it to assess prospects prior to drilling.The ADR technology recognises and identifies stratigraphies which have previously been typecast into the system's memory. It can also recognise and identity the presence of oil, gas and water subsurface.In my opinion ADR has now developed into a powerful hydrocarbon exploration and appraisal tool."Robert Kennedy, Caithness Petroleum Ltd.
Download full testimonial from Caithness Petroleum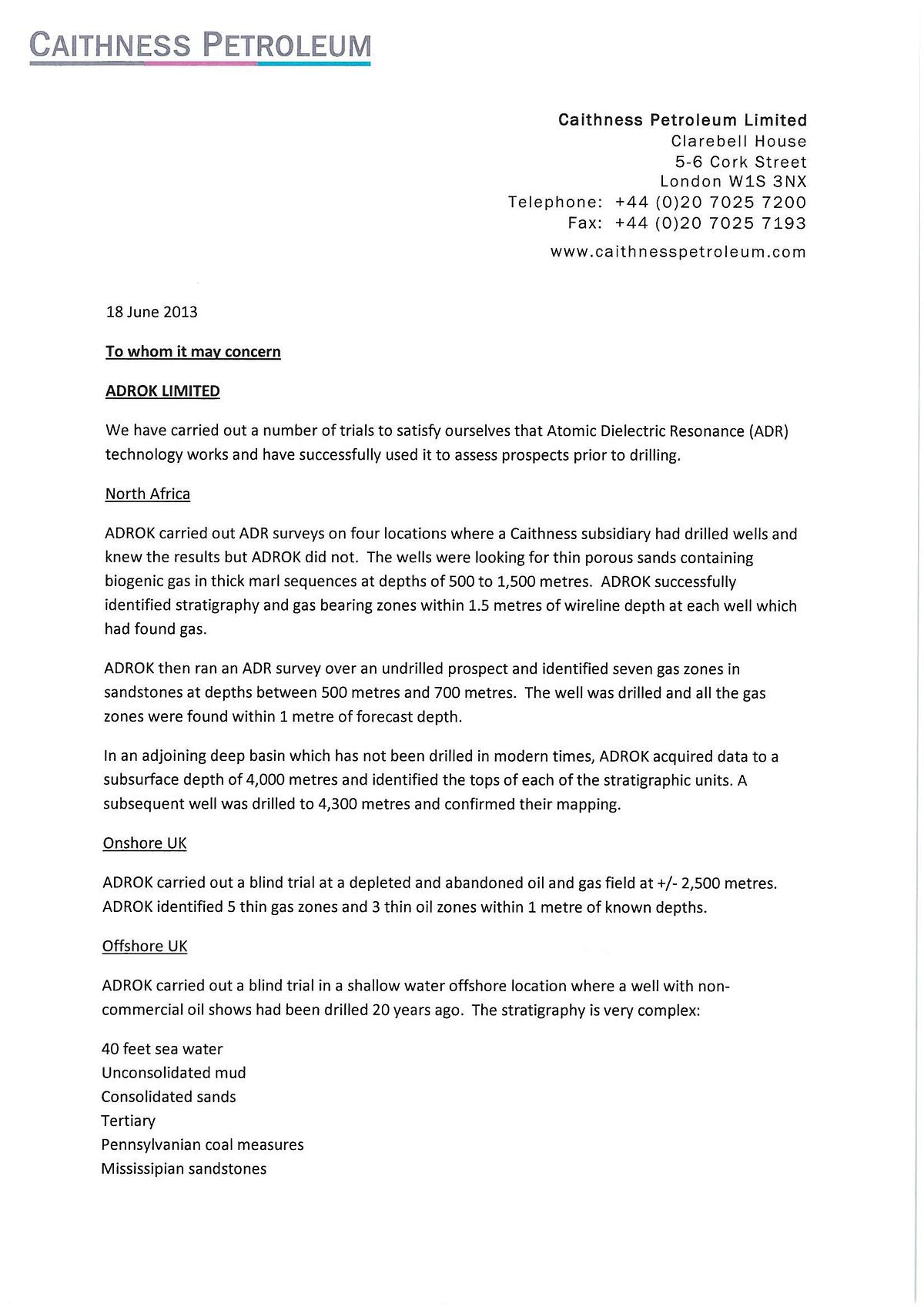 "I was first introduced to Gordon, Adrok, and its ADR technology in 2010. Owing to the highly-interesting results from some surveys Teck engaged Adrok to undertake, and largely through Gordon's stewardship at Adrok, in December 2011 Teck concluded an equity investment in Adrok together with a framework to establish a longer-term working relationship. I am looking forward to working closely with Gordon and Adrok to further develop mineral exploration and geotechnical applications for Adrok's ADR technology."Joel Jansen, Chief Geophysicist, Teck Resources Limited
"In the search to find a technique that will reduce the amount of drilling but also deliver reliable and precise mineral targets, Citigold has explored the use of the ADR technique developed by Gordon and his team at ADROK. For over a year now, Citigold has developed a strong working relationship with ADROK and is reaping the benefits of the technique and the professional services offered by this groundbreaking company. Although the ADR technique is not typically used for identifying sulfide and gold targets, Citigold and ADROK have been working closely together to successfully pinpoint small but high-grade targets in granitic host rocks at depths of up to 800m. This unconventional application of the technique was only made possible due to the expertise and ongoing support of the ADROK team and their willingness to work extremely hard on making the project a success. I am confident that the success of the program and results obtained so far is simply the tip of the iceberg for the ADR technique and that ongoing collaboration with ADROK will continue to benefit Citigold's mineral targeting."Dr. Simon RichardsChief Geologist, Citigold Corporation, Charters Towers, Australia
Download the full case study for Citigold
"It has been a pleasure having a ring-side seat with Adrok and their technology development for subsurface temperature measurements. Some of their results have blown my socks off!"P. Harness, Chevron
"We trialed Adrok's ADR scanner on our Gairloch gold copper zinc project in October 2020. We were impressed with the teams professionalism and efficiency during the fieldwork. The technology is non-intrusive so there was no environmental impact on the land. The results produced by Adrok are very compelling. The company clearly fingerprinted the mineralisation and have figured out a way to directly identify subsurface sulphide zones at ground level without any drilling. We are now in discussions for further test surveys on our other properties. In an era of Green innovations we believe Adrok technology is a game changer for the mineral exploration sector by significantly reducing the amount of exploratory drilling required from grass roots projects to mine development."Gavin Berkenheger CGeol, GreenOre Gold plc
https://greenoregold.com/greenore-adopts-new-green-technology-in-their-search-for-gold-in-ross-shire/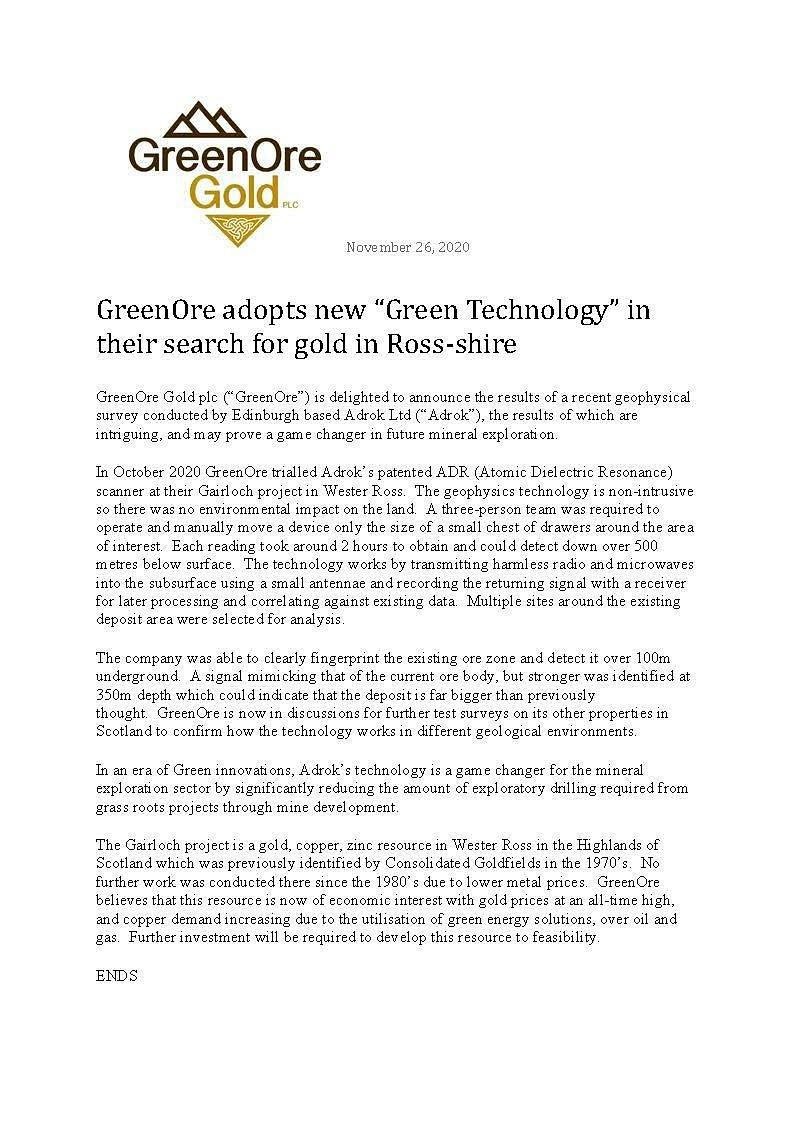 "I have known Gordon, Colin and Adrok for a number of years as a advisor to the company. Adrok technology, a non-invasive elemental spectrometer with deep rock penetration capability, substantially derisks the process of prospecting new uncharted natural resources both on land and under sea. The technology has been successfully applied to platinum, uranium and hydrocarbons geology and has great potential in other mineral sectors."Dr Andrew King, President, Dyesol Europe.
"Gordon has demonstrated considerable capability, ingenuity, and tenacity in leading the programme to develop and prove the effectivness of Adrok's proprietary technology, which has the potential to revolutionise the way in which hydrocarbon and mineral deposits are discovered."John McLaren, Chairman, Barchester Group
"Your group is very professional and carried out the gathering of data in a logical and efficient manner. I look forward to working with you and them in the future." Jim Hutchins, Senior Applications Engineer, Vermeer
Gensource's President & CEO, Mike Ferguson, said, "The potential to apply ADROK's technology in the potash industry is an exciting prospect. Not only are these methods drastically faster and substantially less costly than traditional exploration and confirmation methods, but also the ADR virtual boreholes are a low energy, low disturbance and non-destructive means of accomplishing field work – an ethos that fits well with Gensource's mission to be innovative, and to take a more environmentally friendly and responsible approach to exploring for and producing potash. By utilizing new and more efficient techniques, it is Gensource's goal to decrease cost and time requirement during the exploration and development phases, the result of which will save time and money and add more value to our shareholders. We look forward to further collaboration with ADROK on the assessment and advancement of the potential opportunities this technology can bring to our industry." Click the link below to read the latest update from Gensource Potash: "Gensource Provides Update On The Next-Stage Resource Confirmation Work In Its Vanguard Area"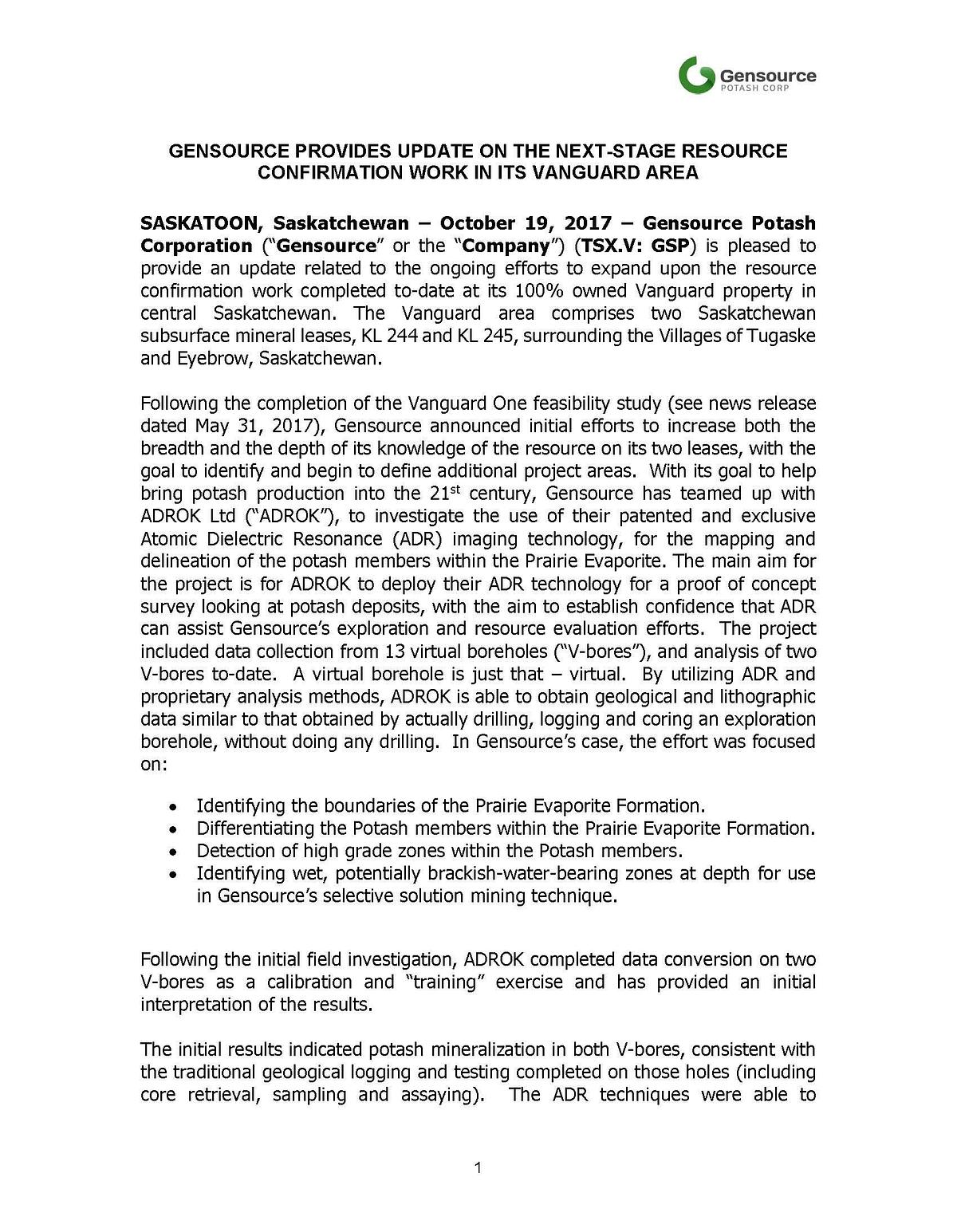 Independent Geoscience Assessments
Click the link below to read an independent assessment of ADR by Paetoro Consulting UK Ltd (December 2018):
http://www.paetoro.com/onshore-uk-and-adr.html
An independent "To whom it may concern" assessment by Dr Dave Waters of Paetoro Consulting UK Ltd (June 2019):
20190627c_AdrokTechnologies_ToWhomItMayConcern.pdf
An independent descirption of "ADR - an EM tool for subsurface based remote sensing of deep subsurface geology" by Dr Dave Waters of Paetoro Consulting UK Ltd (January 2020):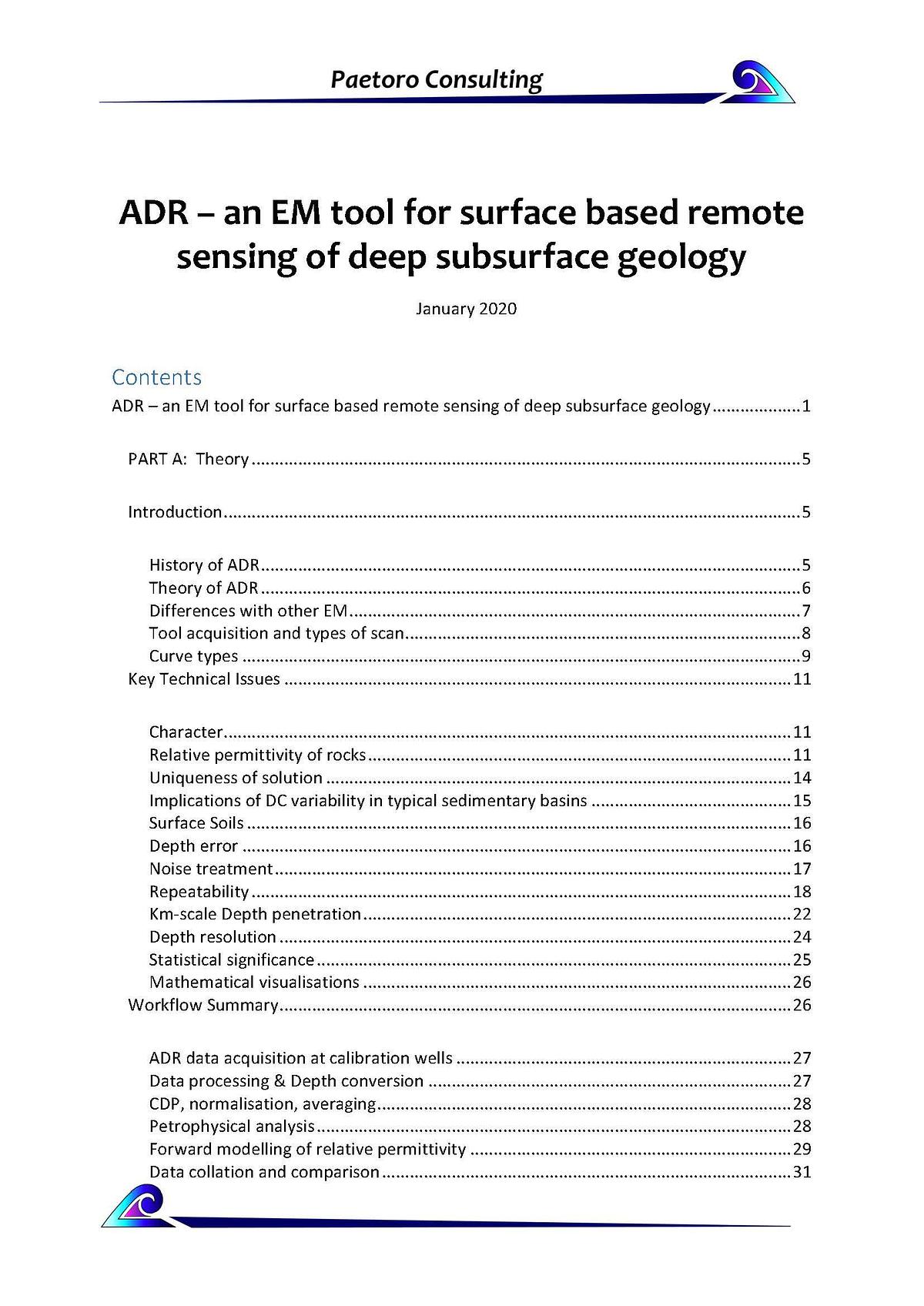 Linkedin articles by Dr Dave Waters:
1) Atomic Dielectric Resonance (ADR): High (depth) resolution electromagnetic remote sensing to km-scale depths for subsurface resource exploration https://www.linkedin.com/pulse/atomic-dielectric-resonance-adr-high-depth-resolution-dave-waters/?trackingId=v5lcDmyET6uUM11IBDtv2g%3D%3D
2) From RADAR to ADR: Illuminating the subsurface https://www.linkedin.com/pulse/from-radar-adr-illuminating-subsurface-dave-waters/?trackingId=v5lcDmyET6uUM11IBDtv2g%3D%3D
3) Paetoro Horizons 2020: Faults, Water (& heat), Onshore Geophysics, Hydrocarbons, and INTEGRATED SCALE https://www.linkedin.com/pulse/paetoro-horizons-2020-faults-water-heat-onshore-scale-dave-waters/?trackingId=NdxsGgwxSamX0UszPRak4Q%3D%3D
An independent geological assessment of some of Adrok's oil projects was made by Senior Geologist, Jim Ward:
Download Jim Ward's paper here.